DealsYou Don't Want to Miss!

Alpine's Halo9 is the latest and greatest that has everybody blown away! Come by and see how much bigger this 9" Screen is then everybody else's!

Features include:
- 9-inch WVGA hovering capacitive touch screen
- Tapered display housing and silver trim for a clean, modernized fit and finish
- Standard 1-DIN chassis designed to fit aftermarket ISO DIN dash kits for various vehicle applications
- Screen mounting positions: three depth positions (up to 20mm deep), five vertical positions (as low as 30mm, four angled positions (45°, 20°, 0°, -20°)
- Access your maps, music, calls, and messages through Apple CarPlay or Android Auto
- The customizable user interface lets you design up to three home pages; choose from available widgets like Clock, USB images, Apple CarPlay, Android Auto, "Now Playing," Sources, and Camera
- Rear-view camera input (camera sold separately)
- SiriusXM Ready™ (SXV300 Connect Vehicle Tuner Kit sold separately, SiriusXM subscription required)
Stay Safe with Kenwood's new line of Dash Cams

Dash Cam
• Full 1080P HD Image w/ HDR
• 2 Megapixel Image
• GPS Built-in
• WiFi for Location Incident
• Comes with Memory Card
• Parking Mode

Looking for a Great Bluetooth CD Player? Look No Further!
Top end GS Head Unit with a 3 Year Warranty!

Save Big on
Subwoofer Boxes!
-Free Subwoofer box when purchasing subwoofers for that box.
-Purchase 1 or 2 Subwoofers, and get a free box for them
-Ported & Sealed Options Available!

What's better then Free!!??
-AM/FM/CD/DVD Player w/ Bluetooth
-Separate BT Mic for Better Talking Experience
-Dual Phone Bluetooth Connection
-Bluetooth Streaming Audio w/ Controls
-Touch Screen Controls
-Satelite Radio Ready
-13 Band EQ-X-Over Controls
-3pr RCA Preouts
-Pandora & Spotify Controls
-Backup Camera Ready
Apple CarPlay & Android Auto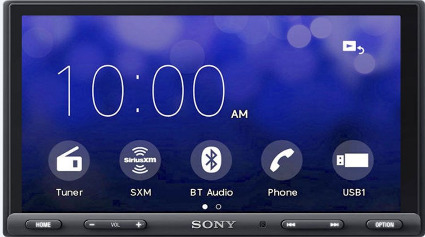 Sony is the leader in Apple Carplay & Android Auto Experience. Bring your phone in for a demo today!

Apple Carplay Starting at:

All XS-R Speakers
of All Sizes
5¼ • 6½ • 6x9"
Only a few left!

Magic Mount
•Phone Holder•

The best and easiest to use
Everybody's Favorite
(Normally $24.99)


Bass Packages are Here!
You Won't Find a Better Deal!

Powerbass Bass Packages Include:
The Subwoofer(s) in a Box & the Amplifier

Call or Come by for Pricing

All specials subject to stock on hand. All sales final.